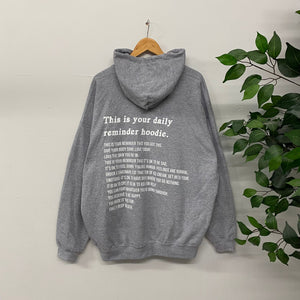 Daily Reminder Hoodie Sports Grey
Part of the Damaged Collective Collection, 
We are reclaiming the word damaged to empower ourselves by celebrating our own stories. 
The text on the back of the reminder hoods read: 

This is YOUR reminder that you got this.

Give your body some love today.
Love the skin you're in.
This is YOUR reminder that it's ok to be sad,it's ok to feel down.
You are human. Feelings are normal.
Order a takeaway, eat that tub of ice cream, get into youremotions.
It's ok to have days where you do nothing.
It is ok to cry, it is ok to ask for help.
You can fight whatever you're going through.
You deserve to be happy.
You made it this far.
Take a deep breath.

% Of profits will be donated to MIND mental health charity.

SMALL 10-12 32" - 34"
MEDIUM 12-14 34" - 36"
LARGE 14-16 37" - 39"
X-LARGE 16-18 42" - 44"
XXL 18-20 45" - 48"
3XL 20-22 54" - 56"
4XL 22-24 58" - 60"
5XL 24-26 62" - 64"


Youth sizes
Medium age 7-8
Large 9-11
XL 11-12